"A good lawyer is much better than a good husband."
—Lucrezia Flathead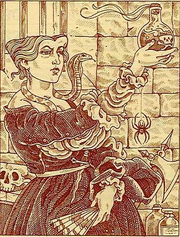 Lucrezia Flathead (735–789) was the only daughter of
King Mumberthrax
and one of the
Twelve Flatheads
. Her legacy is a mingle of history and legend. Her delicate position as an Innocent Widow is overshadowed by her legacy as a Legendary Murderess.
Her life has been marked with marriages with wealthy and old men.
At only 16 years old she married Marcus Bzart-Foodle a very rich and very old nobleman from Gurth, who died 10.5 months after the wedding in bed with her.
Oddzoe Glorb III, a wealthy land baron from Mareilon. He was found dead 5 weeks after the wedding, mangled by hellhounds. Lucrezia had a multi-volume hellhound training manual which she had removed, to get rid of tragic memories.
Only 5 days later she married Hirax Mumbleton, the Governor of Antharia. After 2 days he was found in his office, smothered under a ton of raw granola. Lucrezia cancelled her daily truckloads of granola to avoid similar tragedies.
15 wealthy husbands followed, all wealthy lords who died on their wedding night.
Royal insiders reported that Lucrezia became dangerously suicidal because of her tragic string of bad luck. Dimwit Flathead locked her up in a cell in a dungeon. For the following 15 years 1800 prison guards were mysteriously poisoned.
It is said that she committed suicide in 789, a victim of the Curse of Megaboz.