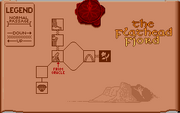 The foggy Flathead Fjord separates the
Flathead Mountains
from the
Gray Mountains
to the north.
The altar of Zilbeetha, as well as an ancient iron mine were nearby. Two men killed each other for the Jewel of Jerrimore.
Leonardo Flathead attempted to make a landscape of it, situated on a ledge.
Ad blocker interference detected!
Wikia is a free-to-use site that makes money from advertising. We have a modified experience for viewers using ad blockers

Wikia is not accessible if you've made further modifications. Remove the custom ad blocker rule(s) and the page will load as expected.