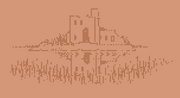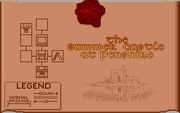 Fenshire is a swampy region which stretches east of the Flathead Mountains to the edge of the world. The summer castle of the Flatheads was located in a remote section of Fenshire. They would travel there from Flathead Caste hangar with a dirigible.
When the place was deserted, the entrance hall of the summer castle retains but a shadow of its former elegance; the ceiling has partially collapsed, and myriad weeds grow amongst the debris that covers the floor. A fireplace is choked with the rubble of its collapsed chimney. Above the fireplace is a faded fresco, and next to that, a tiny vase is mounted on the wall. A vase above the fireplace, when having a flower in it, would open a secret passage.
The swamps of Fenshire have encroached its once-beautiful garden and the wall is now just a pile of mossy stones, and the garden terraces are ankle-deep with squishy mud. To the north is a wide expanse of fetid quicksand. The First Dungeon Master helped Barbazzo Fernap to make a Borphbelly Stew and he gave him a hexagonal block in return.
A crumbling archway leads south to the enclosed arboretum, Hothouse where they played Snarfem and Fernap gave him the fan.