Bozbo IV was the twelfth king of the Entharion Dynasty. The change in rulers made for a profound readjustement of the bloit system of measurement, when Mumbo II chose a turtle as the standard of measurement, rather than a windcat, Bozbo IV's animal of choice.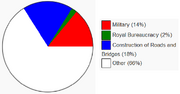 According to pie charts of the year 580 GUE, the Empire's fiscal priorities under Bozbo IV were distributed as follows:
Ad blocker interference detected!
Wikia is a free-to-use site that makes money from advertising. We have a modified experience for viewers using ad blockers

Wikia is not accessible if you've made further modifications. Remove the custom ad blocker rule(s) and the page will load as expected.